Rain Gutter Cleaning - Dougs Precision Power Washing
Rain Gutter and Downspout Cleaning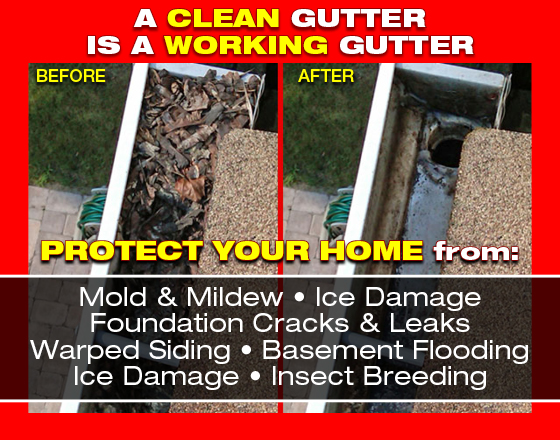 Gutter cleaning helps avoid water dams and mosquitoes in the Spring. Protect from ice dam build-up in the winter. Keep your gutters and downspouts clear of leaves and pine needles. And have the peace of mind that our professional staff will carefully remove the gutter debris from your property, not "blow it" all over the exterior of your home, as some cleaning services are apt to do.
Pricing starting at $300.00 tax included
Issues Caused by Clogged Gutters
1. Leaking Basements and Cracked Foundations: Clogged gutters are the number one cause of basement water problems. Roof water overflows and accumulates around the foundation. If this happens, basement leaks may be moments away, and excess water against the foundation can weaken the footings and lead to cracks.
2. Rotted Wood: When gutters have debris piled up above the flashing or shingle line, the debris can hold moisture on the fascia board. The moisture can also affect the roof sheathing and framing beyond the fascia. The debris acts like a wick and brings water in the bottom of the gutter up to the fascia. Many homeowners have spent THOUSANDS of dollars replacing rotted wood that an inexpensive professional gutter cleaning by Doug's Precision Power Washing could have prevented.
3. Animals and Wood Destroying Insects: Lack of cleaning will also cause water to pond in areas dammed by debris. This condition is ideal for breeding mosquitoes. Bugs love moisture. Plants, birds, insects and even mice will make a home in gutter debris.
4. Sagging Driveways: Clogged gutters and downspouts can also cause driveway and walkways to sag and crack.
Contact Doug's Precision Power Washing for a quote on our rain gutter & downspout cleaning services!